Coastal Excursion Train Rides - www.capetrain.com for West Barnstable scheduled departures. All tickets available at
West Barnstable Train Station & Museum. Ticket sales are cash only.

See our Calendar for more details. All Aboard!
West Barnstable Station LIVE Webcam by the Cape Cod NRHS - YouTube - Watch railroad action on Cape Cod! Sponsored by the Cape Cod Chapter of the National Railway Historical Society. Trains you will see:
1. Mass Coastal Energy Train - Usually runs on week days, be aware that freight trains have no schedule, unlike passenger trains.
2. Cape Cod Central Railroad: see www.capetrain.com for a full schedule and to purchase tickets.
3. The MBTA CapeFLYER - a seasonal Service between Memorial Day and Labor Day weekend from Boston's South Station to Hyannis on Cape Cod. Take the train instead of sitting in traffic at the bridge to enjoy Cape Cod in the summer. www.capeflyer.com

Information
Please note the monthly meetings from May through September will be held at the West Barnstable Train Station, Route 149, 2469 Meetinghouse Way, West Barnstable. Until further notice, all meetings will be held by invitation to Google Meet video conferencing. Meetings are also open to the public, contact the President with your email address. Check our Calendar Monthly pages for our meeting locations and times.
"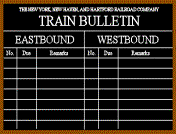 Our Chapter hosts many annual events. The West Barnstable Village Festival (www.westbarnstable.org) is a popular Cape Cod event held on the third Saturday in August. The station is open for business with the added attraction of the Cape Cod Model R.R. Club and Museum's HO scale layout.
Coastal Excursion Trains – The Cape Cod Central Railroad's 'Coastal Excursion Trains' provide an opportunity to see some of the Cape's unspoiled and hidden beauty from a passenger train that runs through the sand dunes, cranberry bogs, salt marshes and the Cape Cod Canal! An on board commentator will highlight the Cape's history and folklore as the train travels to the Canal and returns, a trip totaling about two and a half hours. A whistle stop is made in Sagamore. A train schedule is available at the West Barnstable and Hyannis Stations. Tickets for the Coastal Excursion Trains from West Barnstable are sold at the station ONLY on Saturdays until train time. Purchases are Cash Only at Station; online at www.capetrain.com/ride/coastal-excursion-train. Check the train schedules on our Calendar Page. More information available on Cape Cod Central Railroad's website at www.capetrain.com.
We hope to see you at the West Barnstable Train Station on Cape Cod!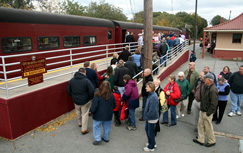 Annual Banquet
The Cape Cod Chapter, NRHS Annual Banquet is TBA. Check back for updates!